Sundays 6 pm - 8 pm [GMT]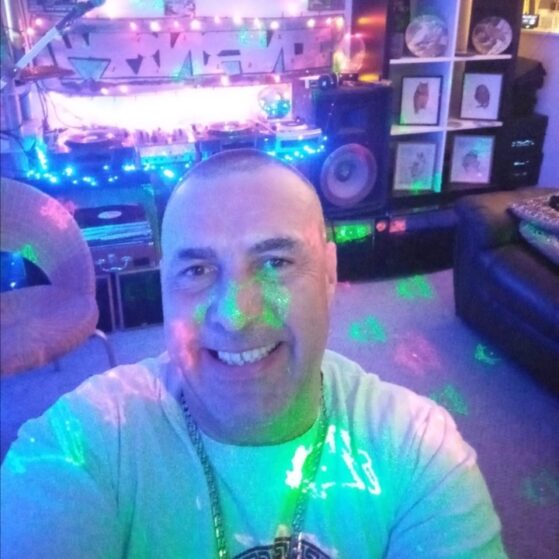 Hi Peeps It all started for me back in the early 90s.  First of all I started mcing in my mates (Peter Paynter) flat, that was my first ever taste for mcing.
In 1992, HYPERBOLIC was the place where it started for me and where I became (Resident Mc. Then the Pleasure Dome in Skeggness.
I had a while out of the game as I was indisposed for 6 years of my life.
Then in 2000 I got out and back on it. Mcing on Norwichs No 1 PIRATE RADIO, Style  88.4 FM. I was Rumble Resident Fuel Resident Shaker Resident LOCKED ON LOCKED IN RESIDENT.
It was this time that I mced at a Dreamscape at Norwich Waterfront. Anything that was happening in Norwich, you can be shure I was on it but then I had to leave Norwich as I'd got into drugs bad, REAL TALK!!! So 9 years later and clean of drugs, back better than ever
I've just recently started doing some stuff in the UK, Reminicse Raves (Cumbria) OLDskool FUNDRAISERS (BUXTON).OLDSKOOL. Also ADDICTED 2 Bass.(KINGS LYNN).D&B.DJS IVE MCED FOR GROOVERIDER, DJ RAP, RAY KEITH, KENNY KEN, Dj RATTY, SY, DOUGAL, CLARKEE, DARREN JAY, MAN PARIS DAZ WILLIOT PIGBAG,  BLADERUNNER, DJ STOMPY, FOOD JUNKY, UNITY, MULDER PACMAN DiMENSION AL
ROYAL,BALLISTIC, Venom, NATRALIST, THE BOMB SQUAD (LEX & G),SNOOPSTER, ALEX MARVELLE,GIN GIN, JU JU, PERFECTION, Deluxe, Crown Jules, Nico Da Funksta, PIANO JUNKIES, DJ GREGGA, CAT4SET, RIGGIE, DJ JAGGER, DJ IQ.
MCS I'VE WORKED ALONGSIDE, BASSMAN, TRIGGA, SKIBBA, SHABBA, MOOSE, FATMAN, DEE NAVIGATOR, DYNAMITE, SPOOKY, 5iveO, FOXY, JUICEMAN, FIVEALIVE, VIP, THUNDA, NATRUAL, LINDEN D, MC E, MUNCHIE, CREEDJammin Kane, 2011 NEW BARS/NEW CHAPTER!!
HOPE YOU LIKE IT BIG UP DJ JAWA USA MASSIVE RESPECT STRAIGHT UP TO THE NECK!!
PEACE.