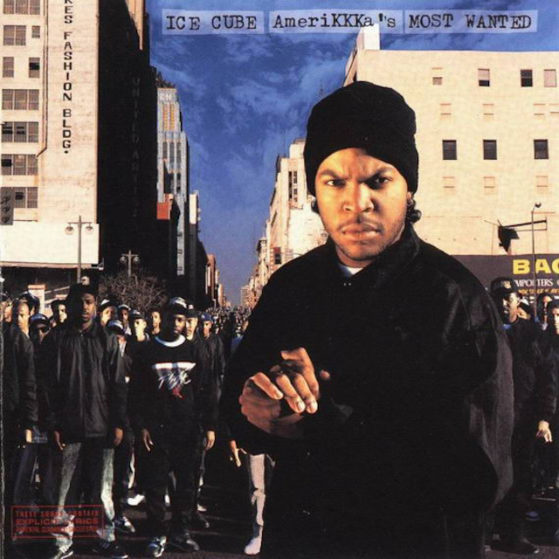 AmeriKKKa's Most Wanted is the debut studio album by American rapper Ice Cube, released on May 16, 1990, by Priority Records. It was his first solo album, after an acrimonious split from his former group N.W.A. The album was primarily produced by Public Enemy's production team The Bomb Squad. A critical and commercial success, it remains one of the defining hip hop albums of the 1990s.
BACKGROUND
Conception
After departing from Ruthless Records and the West Coast–based group N.W.A, Ice Cube immediately moved to record his own album. Cube maintains that originally, he and N.W.A producer Dr. Dre still wanted to collaborate for Cube's debut solo, but the move was nixed by label powers:
When I went solo, I wanted Dr. Dre to do AmeriKKKa's Most Wanted, but Jerry Heller vetoed that…and I'm pretty sure Eazy didn't want Dre to do it. But Dre did want to do it; we gotta put that on record. Dre wanted to do my record, but it was just too crazy with the break-up [of N.W.A].
— Ice Cube, "Ice Cube, AmeriKKKa's Most Wanted Retrospective [20 Years Later]", XXL
Linking up with Sir Jinx, Dr. Dre's cousin, Cube made use of pre-written notebooks of songs meant for N.W.A member/Ruthless co-founder Eazy-E. After relocating to New York, they worked on the songs, which included "Once Upon a Time in the Projects", "Get Off My Dick & Tell Yo' Bitch to Come Here" and "Gangsta's Fairytale", among others. Under fire from his former group with the song "100 Miles and Runnin'", from the EP of the same name, he also recorded the song "Jackin' for Beats", using beats allegedly planned for use on the next N.W.A album, though he would use this several months later on the Kill at Will EP.
After contacting Public Enemy's production team The Bomb Squad, they completed the album. The album received a fair share of production credited to various Bomb Squad members, with an appearance by Public Enemy frontman Chuck D, despite Jinx's claims that the only Bomb Squad member fully present was Eric Sadler. Hank Shocklee spoke on meeting and working with Ice Cube in a Cool'eh Magazine interview:
Cube contacted me wanting to know if we could do a few tracks for his solo album after the whole NWA thing came to what it was and I was like, I'll do it if I can do the whole album. And he said, that's what I was hoping you would say…y'know…and when we were in the studio he showed up with notebooks and notebooks full of new rhymes, a bag full of rhymebooks.
— Hank Shocklee, Cool'eh Magazine
CONTENT
With socio-political conscious and gangsta rap content, its songs delve into the issues of ghetto life, drug addiction, racism and poverty. Throughout the album, Ice Cube incessantly attacks institutional racism, as well as social norms which directly or indirectly allowed the oppression of those living in the ghettos of Los Angeles to continue. On "Endangered Species (Tales from the Darkside)," he predicts that his neighborhood would become a flash point for violence before 1992's scandal over the beating of Rodney King, and takes police to task for the policies that would later lead to the L.A. riots that resulted.
Throughout the album, Cube takes some controversial stands, referring to certain types of African-Americans as "Oreo cookies", an epithet implying that they appear black on the outside, but have, internally, negative white tendencies. Arsenio Hall is specifically mentioned as being a "sell-out." Cube also heavily criticizes R&B and hip hop radio stations for watered-down broadcasting. The title song directly parodies the television show, America's Most Wanted, alleging bias and denouncing the glee the program displays in arresting African-American men.
A later skit, "The Drive By," returns to the same theme at the end, with newscaster Tom Brokaw reporting on rioting, stating: "Outside the south central area, few cared about the violence because it didn't affect them." He also addressed gender relations on "It's a Man's World", a duet between Cube and rapper Yo-Yo. Cube and Yo-Yo verbally spar and trade sexist barbs back and forth in an exposé of sexism between men and women. Amidst critics' accusing Ice Cube of sexism, Peter Watrous of The New York Times wrote, in review of a live show at New York's Apollo Theater:
…no one came out ahead; any new sense of cultural violence or sexism promoted by the record had dissolved into a traditional battle of the sexes, no better or no worse.
CRITICAL ACCLAIM
Upon release, AmeriKKKa's Most Wanted received critical acclaim, and over the years it has been regarded by many as a hip-hop classic. Davis Mills from The Washington Post praised the album for its lyrical dexterity, stating: "Ice Cube has now proven that he was N.W.A's
crucial element. He's an unusually gifted rhymer, and his delivery is even more self-assured." Greg Sandow from Entertainment Weekly called it "not necessarily cohesive art", but complimented the album's vivid depictions of urban realities and wrote that Ice Cube "emerges as a rapper most original for his uncompromising tone. He throws ghetto life in our faces and dares us to draw our own conclusions".
LEGACY
Ice Cube's social, and political commentary, delivered in an incisive manner, has influenced numerous rappers since Amerikkka's Most Wanted, particularly in the gangsta rap and political rap subgenres. Focusing on the hardships of life in South Central, Los Angeles, as well as criticizing the American Justice System and race relations in the United States, Cube became an outspoken voice of U.S. social customs tipped against young Black Americans.
Although Ice Cube's popularity among mainstream listeners has lessened since the 2000s, and his sound may be considered distinctively old school to modern ears, many notable rappers themselves have been influenced by AmeriKKKa's Most Wanted. His style of rapping about real life sentiment and socio-political awareness influenced the music of West Coast rappers, including that of Tupac Shakur, Ras Kass, and Xzibit, as well as East Coast rappers Nas, The Notorious B.I.G., and more recently, Saigon and Southern rapper Young Jeezy. East Coast rapper Redman also covered "Once Upon a Time in the Projects" on his album Doc's Da Name 2000, with the song "Jersey Yo!".
COMMERCIAL PERFORMANCE
AmeriKKKas Most Wanted debuted at number 19 on the US Billboard 200 chart. It was certified gold by the Recording Industry Association of America (RIAA) two weeks after it was released for sales of over 500,000 copies. The album was eventually certified platinum two months later on September 16, 1991. As of June 2015, the album has sold over 3.1 million copies in the United States.
TRACKLISTING
Better Off Dead (1:00)
The N**** Ya Love To Hate (4:01)
AmeriKKKa's Most Wanted (4:08)
What They Hittin' Foe? (1:30)
You Can't Fade Me (4:47)
JD's Gaffilin' (0:28)
Once Upon A Time In The Projects (3:40)
Turn Off The Radio (2:37)
Endangered Species (Tales From The Darkside) (3:24)
A Gangsta's Fairytale (3:28)
I'm Only Out For One Thang (2:13)
Get Off My Dick And Tell Yo Bitch To Come Here (0:55)
The Drive-By (0:56)
Rollin' Wit The Lench Mob (3:48)
Who's The Mack? (4:31)
It's A Man's World (4:46)
The Bomb (3:24)
CREDITS
The Bomb Squad – producer
Mario Castellanos – photography
Chris Champion – assistant engineer
Chuck D. – performer
Da Lench Mob – vocals (background), producer
(Ex) Cat Heads – vocals (background)
Flavor Flav – vocals, performer
Ricky Harris – vocals (background)
Al Hayes – bass guitar, guitar
Vincent Henry – flute, saxophone
Brian Holt – vocals
Kevin Hosmann – art direction
Ice Cube – vocals, producer
Jay Dee – vocals (background)
Tim Rollins – piano
Eric Sadler – producer
Nick Sansano – engineer
Shannon – vocals (background)
Christopher Shaw – engineer
Keith Shocklee – scratching
Sir Jinx- vocals (background), producer
Chilly Chill – vocals (background), producer
Howie Weinberg – mastering
Dan Wood – vocals (background), engineer
Yo-Yo – vocals, performer
SAMPLES
BETTER OFF DEAD
Weak at the Knees" by Steve Arrington
"Keep on Doin' It" by The New Birth
"Atomic Dog" by George Clinton
"I Need More Time" by The Meters
"Gangsta Gangsta" and "A Bitch Iz a Bitch" by N.W.A
"Funky Beat" by Whodini
"Superfly" by Curtis Mayfield
THE N**** YA LOVE TO HATE
"Advice" by Sly & the Family Stone
"Let the Music Take Your Mind" by Kool & the Gang
"Humpin'" by Bar-Kays
"I'm Chief Kamanawanalea (We're the Royal Macadamia Nuts)" by The Turtles
"There It Is" by James Brown
"Prison" and "Jesse" by Richard Pryor
"Run, Nigger" by The Last Poets
"Rocket in the Pocket (Live)" by Cerrone
"Fuck tha Police" and "Straight Outta Compton" by N.W.A
"Theme From America's Most Wanted" by Robert Walsh
"My Philosophy" by Boogie Down Productions
"Take Me to the Mardi Gras" by Bob James
"Jam Master Jay" by Run-D.M.C.
AMERIKKKAS MOST WANTED
"The Jugglers" by Average White Band
"Sister Sanctified" by Stanley Turrentine and Milt Jackson
"Synthetic Substitution" by Melvin Bliss
WHAT THEY HITTIN FOE
"Rumpofsteelskin" by Parliament
"Pneumonia (Live)" by Kool & the Gang
"Synthetic Substitution" by Melvin Bliss
ONCE UPON A TIME IN THE PROJECTS
"Shoo-B-Doop and Cop Him" by Betty Davis
TURN OF DA RADIO
"House of Beauty" by Isaac Hayes
"Rated X" by Kool & the Gang
"Races" from Do the Right Thing
"Straight Outta Compton" by N.W.A
ENDANGERED SPECIES TALES FROM THE DARKSIDE
Standing on the Verge of Getting It On" by Funkadelic
"Long Red" by Mountain
"Bop Gun (Endangered Species)" by Parliament
"Fuck Tha Police" by N.W.A
"2001" by The Cecil Holmes Soulful Sounds
A GANGSTA'S FAIRYTALE
"Parrty" by Maceo & the Macks
"Mother Goose" by Andrew Dice Clay
I'M ONLY OUT FOR ONE THING
GET OFF MY DICK AND TELL YO BITCH TO COME HERE
Express Yourself (Extended Mix)" and "A Bitch Iz a Bitch" by N.W.A
THE DRIVE BY
"Bust a Move" by Young MC
ROLLIN' WITH THE LENCH MOB
"Givin' Up Food for Funk" by The J.B.'s
"Uphill Peace of Mind" by Kid Dynamite
"Hey! Last Minute" by The Meters
"Memphis Soul Stew" by King Curtis
"Aqua Boogie (A Psychoalphadiscobetabioaquadoloop)" by Parliament
"Parental Discretion Iz Advised" and "Gangsta Gangsta" by N.W.A
"Rollin' With Kid 'N Play" by Kid 'n Play
WHO'S THE MACK
"I Wanna Get Down" by Fred & the New J.B.'s
"Hihache" by Lafayette Afro Rock Band
"The Humpty Dance" by Digital Underground
""T" Stands for Trouble" by Marvin Gaye
IT'S A MANS WORLD
"It's a Man's Man's Man's World" by James Brown
"Crumbs Off the Table" by Laura Lee
"Women Are Beautiful" and "Jesse" by Richard Pryor
"Still Talkin'" by Eazy-E
"A Bitch Iz a Bitch" by N.W.A
"The Lady Sirro" by Michael White's Magic Music Company
"Sing a Simple Song" by Sly & the Family Stone
"Brother Green (The Disco King)" by Roy Ayers Ubiquity
"JD's Gaffilin' (Part 2)" by Ice Cube
THE BOMB
"More Bounce to the Ounce" by Zapp
"The Assembly Line" by Commodores
Hindenburg Disaster Footage by Herbert Morrison
"UFO" by ESG
"Funk to the Folks" by The Soul Searchers
"P. Funk (Wants to Get Funked Up)" by Parliament
"Girls" by Beastie Boys