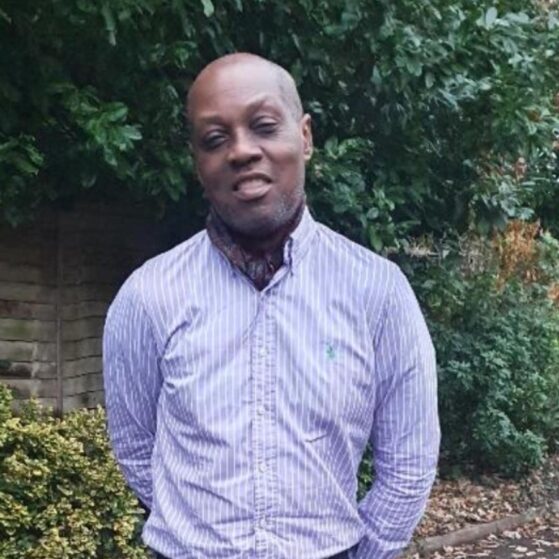 Dapo began his love affair with music at an early age. By the age of 3 dapo would tune into the radio singing along to his favourite records of the time. After listening to these records Dapo would start to ask his father questions about the music he was hearing.  This knowledge of music stayed with him as Dapo progressed in years. By the age of seven Dapo had discovered James Brown and an uncle had introduced him to Jimi Hendryx. This opened up the mind of Dapo to appreciate all different types of genres of music.
Dapo had developed a likng for the music of Tamla Motown, Reggae and soul music as well as some of the more conventional pop records of the time.  By the age of 13 punk rock and new wave music had been sweeping the nation. Dapo found the music of the Sex Pistols at first, to be an unruly noise. However, a school friend of Dapo decided he would try and educate Dapo into what Punk Rock music stood for. Dapo discovered that a group named The Clash were heavily influenced by the whole reggae music scene, and their rastafarian friend Don Letts.
Dapo was soon persuaded to take a look at a television programme that was hosted by the late Marc Bolan. On this programme he watched the performance of new wave band The Jam. The energy, style and dress of this outfit led by Paul weller left a solid imprint in the mind of Dapo.  After watching a couple of other television performances from The Jam Dapo went to watch them in concert, This started a love affair of Dapo going to watch concerts for more than 40 years. These concerts were delivered by different musical artistes from different musical backgrounds,
Dapo soon began to love the soud of early rap music and saw that a lot of this music was being promoted by people that were involved in the punk rock movement. Hip hop at the time had a lot of the same ideology and philosophies that had been associated with Punk rock. After attending concerts delivered by rap artistes Dapo met Hip Hop icon Afrika bambaataa. Dapo soon found that himself and Bambaataa had a similat taste and liking for a lot of the same musical artistes. A friendship started that saw Dapo record, promote and manage Afrika Bambaataa,
It was not long before Dapo was releasing his own records.  as he recorded under the Pseudonym of CD Jay.  Dapo was soon being invited into the studios of Radio London by Dave Pearce. This was the introduction that Dapo had to radio as Dave Pearce did numerous interviews with Dapo and later went on to manage Dapo.  Bands such as The Nightrains, Liaison 11 and Soulshack saw Dapo work as the lead vocalist in these groups.  It also saw dapo being invited into different radio stations .
Dapo soon saw himself acting as a spokesperson for Afrika Bambaataa when he was situated in the UK. Dapo was soon being interviewed by the likes of Tim Westwood on Capitol Radio and by Max and Dave on Kiss FM.
With the computer age dawning Dapo was invited to host his own show on an internet radio station.  The experience and co presentation of this music and talk show which he shared with his co-host , Marina, saw Dapo thinking one day he would host a talk and music show that played a diverse range of good music that had no restrictions.
The chance for this kind of radio show was presented to Dapo by Zack and LWR Radio. Dapo is now pleased to be playing every Sunday afternoon between 2 and 4pm on LWR Radio with his show entitled The Sound Of The Streets